I wanted to share some of my favorite things I've collected. I absolutely love antique/vintage tins and country store items. I guess this love comes from being raised next door to my grandparent's country store. After school we always went in the store and had to tell my Grandfather what we'd studied in school that day. My Grandfather was 40 years older than my Grandmother and almost totally deaf. He wore no hearing aid but still wanted us to visit and tell him about our day. So after lots of shouting we were allowed to get some candy or cookies from the old jars on the counter. To this day, I remember the layout and so many of the items from that store, so I think that's where my special fondness for these simple, utilitarian items comes from. I hope you enjoy these pictures.
Below, a Prince Albert tobacco can and a clear glass "TOMS" container. The writing on the jar says "Eat Tom's Peanuts 5 cents", it has a red wooden knob on the lid.
The cream tin on the bottom of the 3 stacked tins is a lard tin from Erie, PA, it was a gift in another of our TDIPT swaps. I treasure it because Sue Zalik (2Stitchin) gave it to me and said it's from the part of PA she and Lynn came from. To the right is a large Ivin's Cookie, Cake & Cracker tin. I found this in a local antique shop, it's not perfect but I love it's mustard and deep red colors.
The next picture shows a large faded orange tin with a pig on the front, it's another lard tin. The tin pig in the front came from my Grandparent's store. It dates to 1930, the year my Dad was born. It was an advertisement for an automotive service company. It included the small calendar at the bottom and a thermometer, the thermometer is long gone but the calendar is intact. My Grandmother wrote my Dad's name and birth date across the top. To the left in the picture is a stoneware crock that has "E B TAYLOR RICHMOND,VA" in blue lettering across the front. Both of my Grandmother's had one of these crocks, both of them are gone now and I never asked if they knew what came in the crock. The small blue tin held tea, it was part of another great TDIPT swap.
In this next picture you can see some of the wooden boxes I have. These held Kraft American cheese, Regent Relish cheese and Corned Beef. The large green metal box is galvanized inside, I don't know if it was a cooler of some sort or just what it's purpose may have been.
Finally, I want to share this picture that features some candy containers, a vintage bobbin and a silk 48 star flag banner. The turkey was made in Germany of papier mache. There are several small clear glass containers, a Scottie dog, ship and a telephone.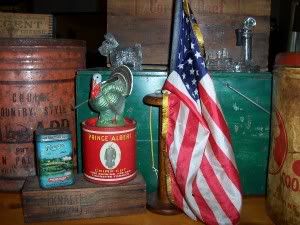 I hope you enjoyed seeing some of my favorite things, I hope to add to my collection this summer. After all, you never know what you may find in a small, dark, dusty room of an antique shop.
Be sure to keep checking in, we have some exciting things coming up.
Diane~Tallowberry Primitives