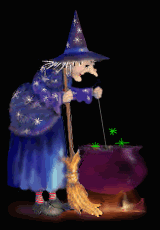 Graveyard Brownies
These magical treats will actually melt in your mouth!
12 Vienna Finger cookies (or other similary shaped oval cookies)
5 eggs
2 sticks unsalted butter, softened
8 ounces unsweetened chocolate
3 1/2 cups sugar
1 tablespoon pure vanilla extract
1 2/3 cups sifted all-purpose flour
1/2 teaspoon salt
1. Preheat oven to 400˚F.
2. Grease a 9 x 13 inch pan
3. Combine chocolate and butter in a double boiler and heat over simmering water until the mixture is completely melted. Remove from heat and set aside.
4. Beat eggs and sugar with an electric mixer at high speed for 10 minutes. Reduce to low speed and add the melted chocolate and vanilla. Blend well.
5. Add the flour and salt and mix until ingredients are combined.
6. Pour batter into greased pan and bake for 30 - 35 minutes or until edges are dry but the center is still soft.
7. Remove baking pan from oven and immediately press the Vienna Fingers into the brownies so that they are standing up like gravestones. Make sure you space the cookies evenly so that when you cut the brownies into squares, each piece will have one gravestone/cookie. Allow brownies to cool 20 minutes before cutting and serving. Serve with large pitcher of milk!
Makes one dozen brownies