I hope everyone is having a wonderful October!We LOVE this time of year,at my house!I just wanted to take a moment,and share some pics of my Halloween decor with you all!
~This is an antique mantle in my dining room,that I have some of my antique China dolls displayed on.They have all put on their best witches hats,to join in the fun!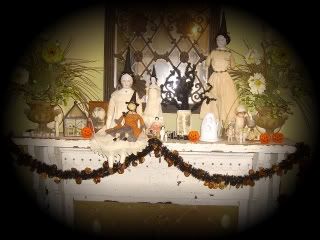 ~This is my chandelier-I love decorating it for all of the Holidays!For Halloween,I have tied some black and orange ribbons on it,and hung in~expensive paper lanterns from it.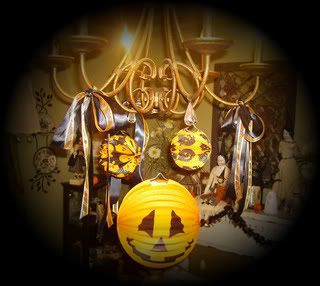 ~A display of witches,on a wonderful farm hutch that my husband made.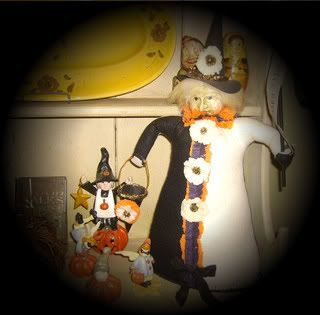 ~A close~up of a FABULOUS stitchery,that I was so lucky to receive in our TDIPT Swap,from Lynn,of
2Stitchin'
~Another"Gaggle of Witches"!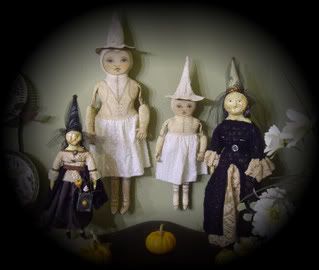 ~More antique China heads,ready for Halloween,and a sparkly Halloween tree,decorated with cardstock pictures that I took from antique woodcut images.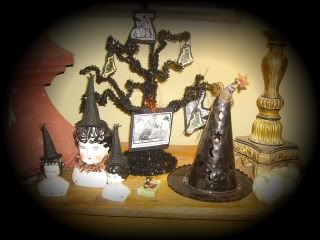 ~And finally,a pic of the outside of my house,from last Halloween.Notice the pom~pom&pipe~cleaner spiders,climbing up our door!Me and my daughter made them.Most of the pumpkins were carved by our children.We don't decorate the outside of our home until the week of Halloween,so I'll post this years' pics then.I hope you enjoyed your browse through my decorations!Thanks so much for stopping by,and have a wonderful Fall!
~Mandy